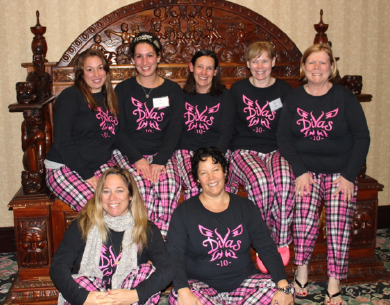 Programs
Lend a Helping Hand
Provides direct services to individuals recovering from recent breast or gynecological cancer surgery and those undergoing chemotherapy and/or radiation for those cancers. Patients choose from a variety of services that will lighten the stress cancer treatment creates for both the patient and family.
Peer to Peer
Cancer survivors give hope and counsel to those new to the world of cancer. You will be matched according to criteria such as age, diagnosis and cancer stage. They have been trained to help you with problem solving, coping strategies and stress reduction techniques. Talking to someone who had a similar diagnosis and who overcame some of the same challenges that you may be facing can be comforting and reduce the sense of anxiety and isolation your diagnosis brings.
Transportation Assistance
Recognizing that transportation to and fromtreatment is often one of the most difficult challenges cancer patients face. This program makes transportation more accessible to cancer patients. The CWC provides gasoline gift cards and cab services to transport patients to their life-saving and life-sustaining treatments.
Support Groups through Ellen's Well
Ellen's Well is a program that since May 2000 has provided psychosocial support for breast cancer and gynecological cancer survivors on Long Island's East End under the leadership of a specially trained certified social worker.
Contact Edyle O'Brien at 631-329-0520.
Wellness Groups
All are welcome, beginners and experts alike.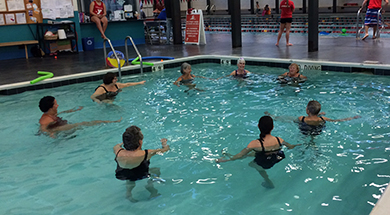 Aqua Yoga
East Hampton at the YMCA Rec Center

Massage Circles

Live Strong Exercise Program
East Hampton at the YMCA Rec Center
Hatha Yoga
Ed & Phyllis Davis Wellness Institute at Southampton Hospital
Restorative Yoga
Ed & Phyllis Davis Wellness Institute at Southampton Hospital
Acupuncture Circles
Ed & Phyllis Davis Wellness Institute at
Southampton Hospital and the Hampton Bays Wellness Center.
For information and reservations on the above wellness groups, please call 631-726-8715.
Day of Renewal and Hope
A space for retreat to all breast and gynecological cancer survivors. The day addresses the mind, body and spirit through healing arts programs and an educational panel discussion lead by four top physicians in the fields of oncology, reconstructive surgery and/or psychology.
This program is offered annually in the fall at the Cormaria Retreat in Sag Harbor, New York.
Three Day Retreat
This weekend is a time for getting away from the pressures of daily life and busy schedules. Discussions and activities offer guidance and instruction on how to better prioritize and organize life for happier and healthier living. The retreat is for all breast and gynecological cancer survivors.
Education
The CWC provides informational tools to increase awareness and education about the importance of early detection. Newly diagnosed cancer patients are given hope and knowledge about how to navigate treatment and recovery.
Nutritional Programs
These programs benefit both women who are living with cancer and those who wish to learn how to practice preventive care. Staying nutritionally fortified can help promote good health, decrease the risk of recurrence and is a positive way to take control of life.
Pick Me Up Program
A special service for breast and gynecological cancer survivors that enables them to get their lives back on track. The cancer experiences that challenge people the most are the ones that affect appearance, that alter bodies, self-image, self esteem and sexuality. The Pick Me Up Program can help individuals take charge of their lives with boosts of self improvement. This is the point where survival, and surviving survival, transforms into thriving in life.
Tara's Children
The primary goals of Tara's Children are:
to discuss how to tell your children that you have cancer.
to provide emotional support for the children and families that have been affected by breast and/or gynecological cancers.
Our social worker, Kristin Guarino, LCSW/R, specializes in working with children and families and aims to facilitate conversations with less distress and fewer tears. Kristin can help you talk to your children gently and honestly. If it is
mentionable, it is manageable.
When a mom or family member is diagnosed with cancer, everyone is affected. Tara's Children provides warmth and acceptance in a safe and comfortable environment. Children and teens will receive the support and truth they need and will be given guidance to cope in their own way.
Counseling offices are located in Southampton and Amagansett. Office visits and phone counseling is available for families and/or individuals. Counseling services are free of charge to those who do not have health insurance.
Other Services
Mind Body Programs
Massage Therapy
Urban Zen
Pink Ribbon Bags
Look Good Feel Better Programs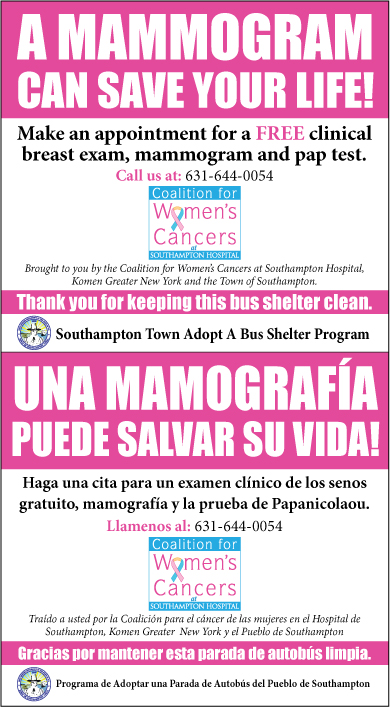 Outreach for the Uninsured or Underserved
A mammogram can save your life!
Make an appointment for a FREE breast exam, mammogram and pap smear. Make an appointment with Claudia Gonzalez: call 631-461-3344 or email:
This program is supported by a grant from Susan G. Komen Greater New York.
Una Mamografia Puede Salvar Su Vida!
!Haga una cita para un examen del seno, mamografia y citologia vaginal GRATIS! Haga una cita con Claudia Gonzalez: 631-461-3344 o email:
Este programa esta patrocinado por una donacion de Susan G. Komen Greater New York City
Please contact Susie Roden for more information about our programs.
phone: 631-726-8715
email:
Spanish Support Groups
Groups led by a bilingual, bicultural social worker.
For more information contact Claudia Gonzalez 631-461-3344
Grupos dirigidos por un trabajador social bilingüe y bicultural. Para más información comuníquese con Claudia Gonzalez al 631-461-3344